Electrifying the Great American Road Trip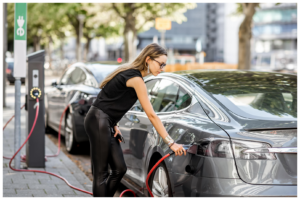 In February, the Biden-Harris Administration announced its latest actions to advance the President's vision of building 500,000 EV chargers by 2030 and delivering a convenient, reliable, and Made-in-America electric vehicle (EV) charging network. These next steps – publishing minimum standards for federally funded EV infrastructure, finalizing the Build America, Buy America implementation plan for EV charging equipment, among others – will electrify the great American road trip.
"This is a major step toward a world where every EV user will be able to find safe, reliable charging stations anywhere in the country," said U.S. Transportation Secretary Pete Buttigieg. "We're establishing common, universal standards for EV charging stations just like the ones for gas stations, so that recharging an EV away from home will be as predictable and accessible as filling up a gas tank."
"Today's announcements will address challenges to widespread EV adoption by clearing the path for a nation-wide network of chargers that is even more accessible and affordable than traditional gas stations," said U.S. Secretary of Energy Jennifer M. Granholm on the day of the announcement. "This historic undertaking will spur economic growth powered by American workers who will deliver on President Biden's goals for America to lead the world in EV manufacturing and adoption."
WISE-EV is uniquely positioned to assist cities, states, and private business owners in being part of the push to electrify the Great American Road Trip!